NTMS
NTMS NEWS AND INFORMATION

---

February Events: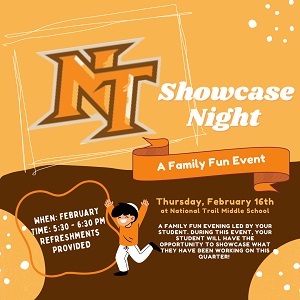 Feb 2 Ground Hog Day

Feb 9 Geography Bee @ Bruce Elementary starting @ 6:30pm
Feb 10 Interims go home
Feb 13 Blood Drive
Feb 14 MS Conferences @ 3-6:30p
Feb 16 MS Conferences @ 3-5:30pm Showcase Night @ 5:30-6:30pm
Feb 17 No School (Conf exchange day)
Feb 20 No School (President's Day)
Feb 23 Art Show in Eaton @ Art Center from 4-6pm
Yearbooks are still available online. Make sure to check the price. The longer you wait, the more it will cost you. Order soon.
Click on the link to order.
https://www.jostens.com/apps/store/productDetail/1048134/NATIONAL-TRAIL-MIDDLE-SCHOOL-5-8/Yearbook/20220907102020950108/CATALOG_SHOP/Yearbook/20220907102021537108#design/0
Student of the Month
January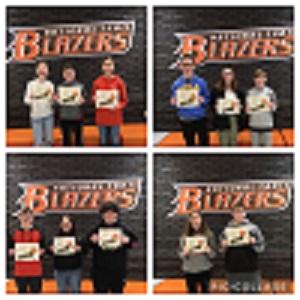 Top left -5th Grade: Olivia Stone, Gavyn Guthrie, Paige Carroll, Top Right-6th Grade: Alton Sparks, Adaline Jones, Gage Bush
Bottom left- 7th Grade: Grady Ott, Audrey Baldwin, Malachi Rehmert Bottom Right-8th Grade: Claire Osswald, Westin Marker, and
not pictured-Kenzie Harper
March Events:
March 3 Band Competition MS/HS

March 4 Band Competition MS/HS
March 7 Band-O-Mania 1:30-2:30pm for students
March 10 No School Staff PD Day
March 17 End of 3rd Quarter
March 18 Steel Band Festival
March 19 Music Dept. Mattress Sale
March 20-24 Student Spirit Week
March 25 MS Solo Ensemble
March 28 Choir Concert