General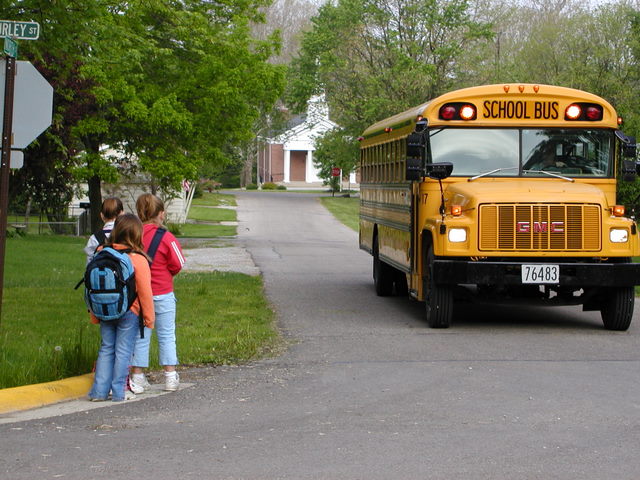 National Trail Local School

Transportation
2018-2019 BUS EVACUATION DRILLS
Friday morning, September 14, 2018, we will be holding School Bus Evacuation training drills for our elementary students. The purpose of the drills is to train students on the proper methods to be able to quickly and efficiently leave the bus should the need ever arise. Students are trained in the 3 types of evacuation methods: (1) All exit through the front service door, (2) all exit through the rear emergency door, (3) half exit the front door, half exit the rear door. The students are also trained to use other emergency exits: side windows and roof hatches, as well as other safety equipment available on the bus that may be used in an emergency. Students will have the opportunity to open the windows and hatches themselves so they would know what its like if they were to ever need to use the exits. Please talk to your students and ask them what they've learned about school bus safety and evacuation procedures. Also, since the rear emergency exit is pretty high off the ground for many students, have them dress appropriately as they may need to sit on the floor before exiting out the rear of the bus. Jeans and gym type shoes are recommended for the drills.
MS and HS Bus Safety Drills will be on Thursday, September 13, 2018. As a result, buses MAY run a few minutes late as a result of the drills.
As always, if you have any questions regarding the drills or anything related to school bus safety, feel free to contact Mr. Toschlog at 937-437-3333 x1116 or by email at jtoschlog@nationaltrail.us.
Thank you for helping us to make our school buses and your students ride to school the safest it can possibly be!
National Trail Students/Parents
Routes are SET as of Friday, August 10. Any pick up/drop off changes or requests after August 10 may require up to 2 weeks to accommodate and become effective. Please check the Bus Schedules below to find your child's route and AM pickup time.

DO NOT WAIT UNTIL ORIENTATION TO NOTIFY TRANSPORTATION DEPARTMENT OF ADDRESS OR PICK UP & DROP OFF CHANGES!
Please understand that routes cannot be changed to accommodate last minute notifications. You will be responsible to transport your child until such time the transportation department can reasonably make those adjustments to the routes.

AM Bus schedules posted on this site Friday, August 17, 2018. (PM schedules are not posted.)
Miami Valley Career Technical Center Students/Parents
Please drop off your CTC students in the HIGH SCHOOL parking lot. For safety reasons, cars are not permitted in the bus loading area any time school buses are present.
The National Trail/CTC Bus will depart promptly at 7:20am each morning and return at 3:05pm. CTC students are scheduled to ride afternoon elementary bus routes home.


NATIONAL TRAIL POLICY

:

High School and Middle School students are

NOT

permitted to ride elementary buses from participation in extra-curricular, after school activities.